Item Number: Sidewinder 388175AUK
Sidewinder 388175AUK
Sidewinder Portable Bobbin Winding Machine
£22.99
1052 in stock
Product Description:
The Simplicity Sidewinder is a battery operated portable bobbin winding machine. The Sidewinder allows you to pre-wind bobbins in preparation for your sewing project, whenever or wherever you want. Why waste valuable "sewing time" winding bobbins on your machine, when you could be sitting in front of your favourite tv show winding simply and quickly on the Sidewinder. Being very compact it can be taken anywhere you want to go and is incredibly easy to use. Simplicity Machines range.
How to use the Simplicity Sidewinder
Place the cotton reel on the spool holder, take the thread through the tension guides and then onto the bobbin. You can choose from two settings: Engage the arm to run the machine hands-free! The machine automatically stops when the bobbin is full, or you can disengage the arm to stop it. Alternatively leave the arm disengaged and use the button to control the amount of winding.
Takes most makes of bobbins (exceptions are shown below). Push button operation. Takes 2 AA batteries which are supplied. Measures 3″ (7.5cm) H x 5″ (12.7cm) W x 3″ (7.5cm) D Built-in carrying handle and two spindles for storing extra bobbins. (Bobbins not included). The following bobbins do not fit on this machine. HUSQVARNA VIKING – Designer SE, Designer I, Quilt Designer II, Quilt Designer, Platinum, Diamond, Optima, Classica; SINGER – Centaur II, Futura; PFAFF – Creative Vision.
Videos: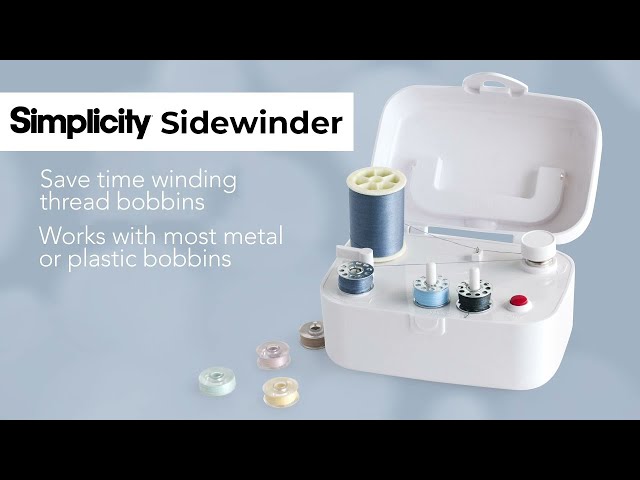 WELCOME TO SEWDIRECT
It looks like you're visiting us from the AUSTRALIA region.
Would you like to shop our sewdirect AUSTRALIA site?
No, stay on the UK site
Are you sure you'd like to cancel your membership?
Your Sew Today VIP Membership 40% discount on all products on sewdirect will no longer apply.